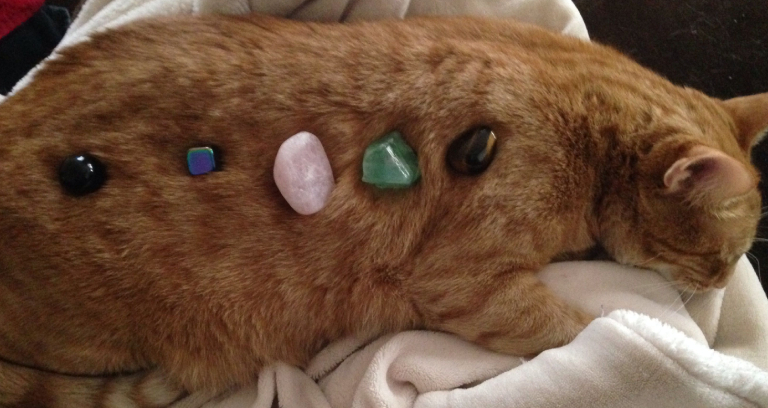 Rock crystal or quartz stones are used for healing purposes. It is also possible to use crystal healing on cats, dogs and other pets. It is a way to comfort and console your pets. It is also a new language that touches your pets. Crystal healing can help to change the mood of your pets in a positive way. Make sure that the rock crystal is placed in the right place away from the pet to prevent choking. It is usually stitched within the sleeping mat of your pet or tied around their neck. Crystal healing for pets can help to enhance their relationships. Choose the right crystal stone for healing your pet. The following offers some valuable information on using crystal healing for pets.
Choosing the Right Crystal For Crystal Healing For Pets
You must choose the right healing crystals for your pet. There are specific ways that can be considered to choose the right healing crystals.
Birthday Date: If you're aware of the birthday of your pet dog or cat, then it is possible to choose the right healing crystal based on its zodiac signs.
Weakness: Identify the weak chakra of your pet so that you can choose the right crystal to strengthen its weak chakra
Aura: If you can find the aura or energies of your pets then it would help to choose the right healing crystal. Choosing the right aura crystal can offer the best balance to your pet.
Strengths: Find the key strengths of your pet and choose the chakra crystal to perform strength training on your pet.
Intentions: You can choose the right crystal for your pet based on your plans. Some people want crystals for healing disorders, for courage and for protection.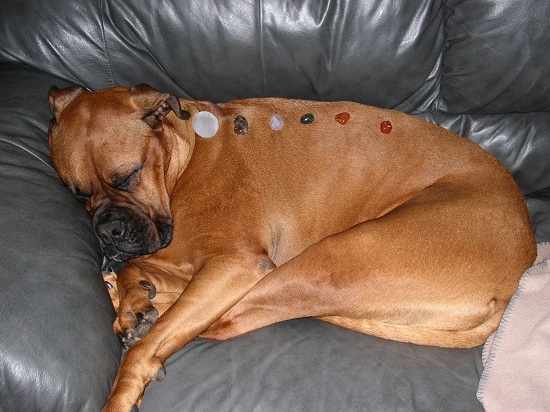 Healing Gemstones For Pet Care
It is believed that crystal stones have the power to nourish your pet and create a bond with it. The following are some of the gemstones used for healing or for pet care.
Schorl Tourmaline: This crystal is said to possess amazing powers. You can use the healing power of school tourmaline to weak dogs. This helps your pet dogs to protect themselves from other dogs when you take them for a walk. This crystal also cures bone sickness in dogs.
Black Agate: This stone is said to possess some omnipotent powers. It can also serve as a communication stone and creates a bond between you and your pet. You can make your dog wear black agate in their neck if they suffer from anxiety disorders. Black agate can help you with obedience training on your pets.
Sodalite: This is a useful crystal which helps in treating the nerves and stress of your pet. It is the perfect crystal stone for caravanning and to emotionally connect with your pet.
Tiger Jasper: This stone helps in improving the behavioural attributes of your pet. It is a therapeutic stone that can be introduced to your pet during ailments. It possesses some magical powers to heal infections very soon.
Amber: This is a powerful stone that makes your dog behave friendly. It is also used to treat flatulence in dogs.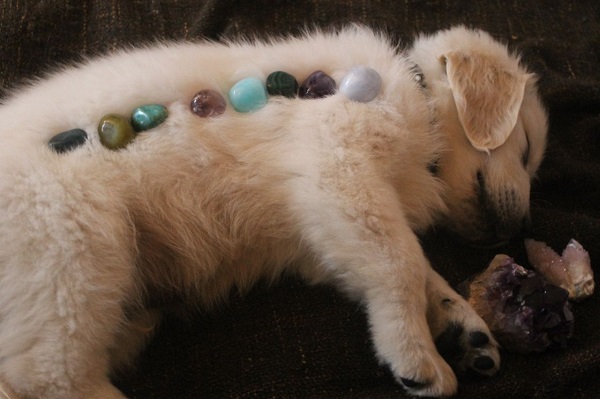 Right Use of Crystals For Pets
The right use of crystals for pets is essential when you wish to benefit from the healing of crystals. The following are some of the crystal ritual methods that you can follow for your pet.
Crystal Pendulum Communication: This is a specific crystal ritual method which helps to communicate with your pet. This crystal ritual connects with your pet by keeping your thoughts open.
Psychic Protection Ritual: This crystal ritual is done with the help of rose quartz. It helps your pet to get rid of the fear. The rose quartz can be stitched along with the bed of your bed for better results.
Crystal Grid: This is an effective ritual followed to take care of the health of your pet. You have to place all the crystals suitable for your pet in a certain direction. Use a quartz wand to activate the crystals.
Wand Programming: In this crystal ritual method, you have to concentrate on your wand and intentions. Move the wand thrice in a circular direction so that you can program your wand.
Reiki Healing: Reiki healing works best with your pets to cure their emotional and physical problems. In this ritual, you must make use of the gemstone and transfer energy from it to your pet.
Crystal Elixir: A crystal elixir can make your pet feel rejuvenated. Infuse the crystal on the top of a coaster. This crystal elixir can be added to the bowl of water of your pet.
Know More About : The Best Crystal Healing Techniques You Can Use Everyday!